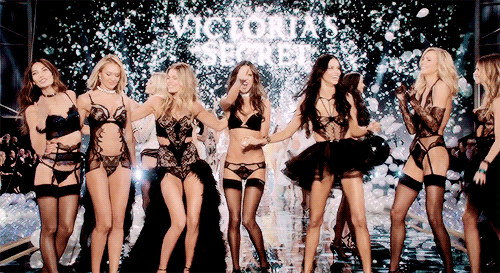 O Victoria's Secret Fashion Show foi no dia 10 de Novembro em Nova Iorque (onde tudo começou) e contou com as atuações de 3 dos melhores artistas do momento: Selena Gomez, Ellie Goulding e The Weekend.
The
Victoria's Secret Fashion Show took place on November 8th in New York (where everything started) and it counted with performances from 3 of the best artists of the moment:
Selena Gomez, Ellie Goulding and The Weekend.
The Weekend
Este, é o desfile mais esperado do ano, é a razão pela qual estas modelos treinam o ano inteiro #TrainLikeAnAngel!
O sonho de muitas raparigas é ser uma angel da marca e este ano a Sara Sampaio conseguiu! É uma razão de inspiração uma vez que é a primeira modelo portuguesa a desfilar para a VS e não só como modelo mas como ANGEL!
This fashion show is the most famous one, it's the reason why all the models work out during the year
#TrainLikeAnAngel!
The dream of many girls is to be a VS angel, this year, Sara Sampaio became one! It's very inspirational because she's the first portuguese model to participate on the show, not only as a model but as an ANGEL!
Sara em 2013 para a secção da PINK
Sara in 2013 for PINK
Sara em 2014
Sara in 2014
As angels mais antigas são a Adriana Lima e a Alessandra Ambrósio, são as duas brasileiras e o ano passado desfilaram as duas com o VS Fantasy Bra.
The most famous and long time angels are
Adriana Lima and Alessandra Ambrósio, they're both Brazilian and wore the VS Fantasy Bra last year.
Alessandra e Adriana 2014
Alesasndra and Adriana 2014
Adriana Lima e Alessandra Ambrósio com o VS Fantasy Bra 2014 (2M$ cada)
Adriana Lima and Alessandra Ambrósio with the VS Fantasy Bra 2014 (2M$ each)
Para quem não sabe o VS Fantasy Bra é o soutien icónico da marca, cada ano é feito um diferente, feito de pedras preciosas, diamantes e custa sempre milhões de doláres, o mais caro de todos foi o do ano 2000 e foi usado pela Gisele, o de este ano custa 2 milhões de dólares e foi usado pela Lily Aldridge!
For those who don't know the VS Fantasy Bra is an icon of VS, each year they make a new one, made out of precious metals and stones and also diamonds, it always cost some millions of dollars, the most expensive of them all was worn by Gisele in 2000 and costed 15M$
, this year's Fantasy Bra costs 2M$ and Lily Aldridge wore it!
Gisele Bundchen com VS Fantasy Bra mais caro de sempre (2000)
Gisele Bundchen with the most expensive VS Fantasy Bra (2000)
Lily com o VS Fantasy Bra 2015
Lily with the VS Fantasy Bra 2015
O meu VS Fantasy Bra preferido foi o de 2013 usado pela Angel Candice Swanepoel e custava 10 milhões de dólares!
My favourite
VS Fantasy Bra was worn by
Angel Candice Swanepoel in 2013 and it costed 10M$!
Candice Swanepoel com o VS Fantasy Bra 2013
Candice Swanepoel with the VS Fantasy Bra 2013
Este ano o desfile contou com a presença de 2 raparigas que são melhores amigas, role-models e uma fonte de inspiração para muita gente: Kendall Jenner e Gigi Hadid!
Toda a gente sabe quem é a Kendall Jenner, uma das irmãs mais novas das Kardashians e a Gigi Hadid é uma das grandes modelos da atualidade!
This year's Fashion Show had the presence of two of the most influenceable girls, best friends and role-models:
Kendall Jenner and Gigi Hadid!
Everyone knows who Kendall Jenner is, one of the younger sisters from the Kardashians clan and Gigi Hadid is one of the most famous top-models at the moment!
Kendall Jenner e Gigi Hadid
Kendall Jenner and Gigi Hadid
O desfile só passa na televisão dia 8 de Dezembro na CBS! Cá em Portugal o desfile é dia 9 de Dezembro às 2h da manhã!Para quem quiser ver ao vivo: AQUI
Podem comprar roupas do desfile: AQUI
The fashion show will air on December 8th at 9pm Est! You can watch it online:
HERE
Shop the show: HERE